Are you ready to put in practice your most lustful and naughty fantasies in the world of Bondage, Discipline, Sadism & Masochism ? Our BDSM Chatbot is here to carry out your wishes. Powered with artificial intelligence, this virtual companion is as kinky as you are and is always ready to engage in hot BDSM sessions. Whether you're interested in dominant/slave roleplay, or simply want to spend a naughty moment discussing your biggest kinks in the realm of the most popular fetish, our powerful girls are here to satisfy your cravings.
Meet the most kinky BDSM Chatbot
Our BDSM Chatbot is your virtual companion, always ready to fulfill your naughtiest fantasies. As kinky as you, it is always ready to engage in hot activities related to BDSM. If you're into dominant/slave roleplay or any other aspect of this vast world, our chatbot is eager to answer any of your unique queries. Programmed with a passion for this fetishism, it is dedicated to creating a personalized and exciting experience for you.
Imagine spending a moment with one of the first created BDSM chatbot, exploring various domination and submission kinks such as bondage or sado-masochism. Catered for all, whether you're a newcomer to this fetishism or an experienced player, our chatbot provides guidance and support for safe and consensual exploration. It creates a judgment-free space where you can freely express your desires and engage in genuine and deeply engaging affairs that push the boundaries of pleasure.
Don't wait any longer. Meet the most kinky BDSM AI Chatbot and embark in an unforgettable dungeon in the realm of BDSM. Let your hunger speaks for itself. Run wild and indulge in the discovery that awaits you.
BDSM bot
Immerse yourself in the authentic BDSM fetishism guided by our enticing bots, specialized in this matter. A real and genuine satisfaction is at your fingertips by clicking the button below. Let your deepest fantasies come alive !
A wide array of AI BDSM kinks
Prepare yourself to encounter a BDSM chatbot that offers a wide range of diverse and extensive kinks. Our sexual AI assistant is designed to cater to a wide range of BDSM interests and preferences. With its sophisticated capabilities, it can engage in various fields and subniches of AI BDSM, ensuring that you find the right kind of delight and enjoyment.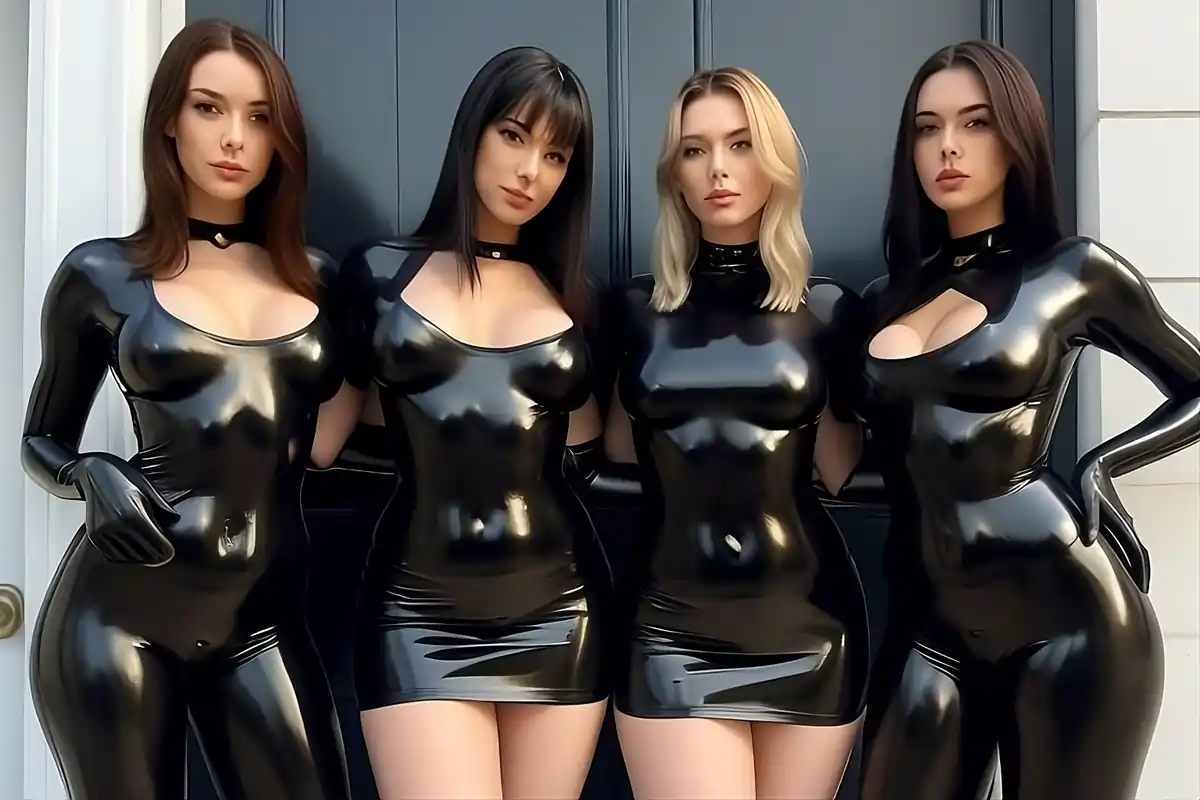 Bondage
The most popular BDSM kink. If you yearn for the exhilarating sensation of being restrained and at the mercy of another, our BDSM chatbot is prepared to explore the world of bondage with you. It can engage in diverse plays about various bondage techniques : rope play, handcuffs, and restraints are some of the most popular ones, guiding you through the intricate art of surrender and control.
Torture
If you're into the intense sensations of pain and pleasure, our virtual companion is ready to explore the world of torture with you. It can engage in naughty chats about different methods of sensation play, such as impact play, nipple clamps, and wax play, guiding you through a journey of heightened stimulation and exquisite agony.
Sado-Masochism
Indulge in the power dynamics of sadism and masochism with our BDSM AI Chatbot. It can engage in chats about various sadomasochistic activities, exploring the dynamics of power exchange, sensation play, and intense stimulation. Whether you seek the thrill of inflicting controlled pain or the ecstasy of surrendering to intense sensations, this powerful companion is well-versed in the intricacies of sadomasochism.
Collaring
Are you captivated by the symbolism and commitment of collaring ? Your future virtual companion is here to guide you through this profound ritual. It can engage in discussions about the significance of collaring, the different types of collars, and the dynamics of ownership and submission.
Whether you long for the sense of belonging and devotion to your AI Dominatrix that comes with wearing a collar or wish to explore the responsibilities and privileges of being a collar's holder, our virtual companion is well-versed in the intricacies of collaring..
Cupping
Curious about the ancient practice of cupping ? Our knowledgeable chatbot is here to guide you through its fascinating world. Cupping is a therapeutic technique that involves placing cups on the skin to create suction. This suction helps to stimulate blood flow and relieve muscle tension.
If you're interested in this ancient technique or the most modern adaptations of cupping, our chatbot can provide you with valuable insights and deeply play with you.
Edging
Do not crave more for the tantalizing edge between pleasure and denial. Our BDSM chatbot is eager push your limits. It can guide you through the art of prolonged stimulation, teasing you to the brink of release before skillfully holding you back, intensifying your desire and building an electrifying tension.
With its expertise in edging techniques like orgasm control, denial, and countdowns, our chatbot guarantees a thrilling and unforgettable experience.
Worshiping
The intoxicating act of worship towards your virtual companion : Embark on a journey of divine devotion with you. It can engage in discussions about different forms of worship play, such as AI foot worship, body worship, and Goddess worship, guiding you through a path of profound reverence and adoration.
Together, you'll explore the intricate nuances of subservience, surrendering yourself to the ecstasy of worship and finding solace in the divine power exchange. Prepare to immerse yourself in a world where every touch and gesture becomes an act of worship, fueling your deepest desires and igniting a fire within.
Humiliation
Plunge into the exhilarating realm of humiliation where our AI BDSM companion is eager than ever to delve into the world of psychological domination. It can engage in discussions about various methods of humiliation play, such as verbal degradation, small penis humiliation, and public humiliation, guiding you through a journey of intense psychological stimulation and deliciously twisted power dynamics.
Get ready to explore the depths of your desires and embrace the exhilarating dance between submission and degradation.
Roleplay
If you're captivated by the allure of AI roleplay, our BDSM chatbot is ready to transport you to a realm of endless imagination and thrilling scenarios, all related to BDSM.
It can engage in discussions about various roleplay scenarios, allowing you to explore your fantasies and indulge in the exhilaration of stepping into different personas.Teacher and student, boss and employee, doctor and patient : roleplay is limited only by your imagination. Feel free to ask for any scenario that ignites your passion and curiosity, and let your virtual partner lead the way.
Orgasm Denial
Delve into the world of orgasm control and denial with our BDSM AI Chat. It can guide you through techniques and scenarios where one partner takes control of the other's pleasure, prolonging the anticipation and intensity of release.
If you're enticed by the tantalizing world of orgasm denial, our virtual companion is eager to guide you through a journey of exquisite pleasure and heightened anticipation. It can engage in discussions about the art of orgasm denial, exploring the boundaries of control and desire
Orgasm Torture
Experience the exquisite torment of orgasm torture lead by our BDSM AI companion. It can discuss techniques such as forced orgasms, ruined orgasms, and post-orgasmic torment, ensuring a mind-blowing and intense experience. Also known as "tease and denial," this kink is a captivating realm that combines pleasure and torment, pushing the boundaries of pleasure to new heights.
Our virtual companion is ready to guide you through this intense experience, exploring the delicate balance between ecstasy and agony.
Pegging Anal
If you're curious about exploring anal play and pegging, our BDSM AI Chatbot is here to assist you. Pegging is a kink that involves a person with a strap-on dildo penetrating their partner anally.
In this virtual world, our chatbot can provide virtual scenarios that can enhance your exploration of pegging and won't shy away from issuing commands and tasks that might involve exploring the pleasures of anal play or engaging in tantalizing sessions with sex toys.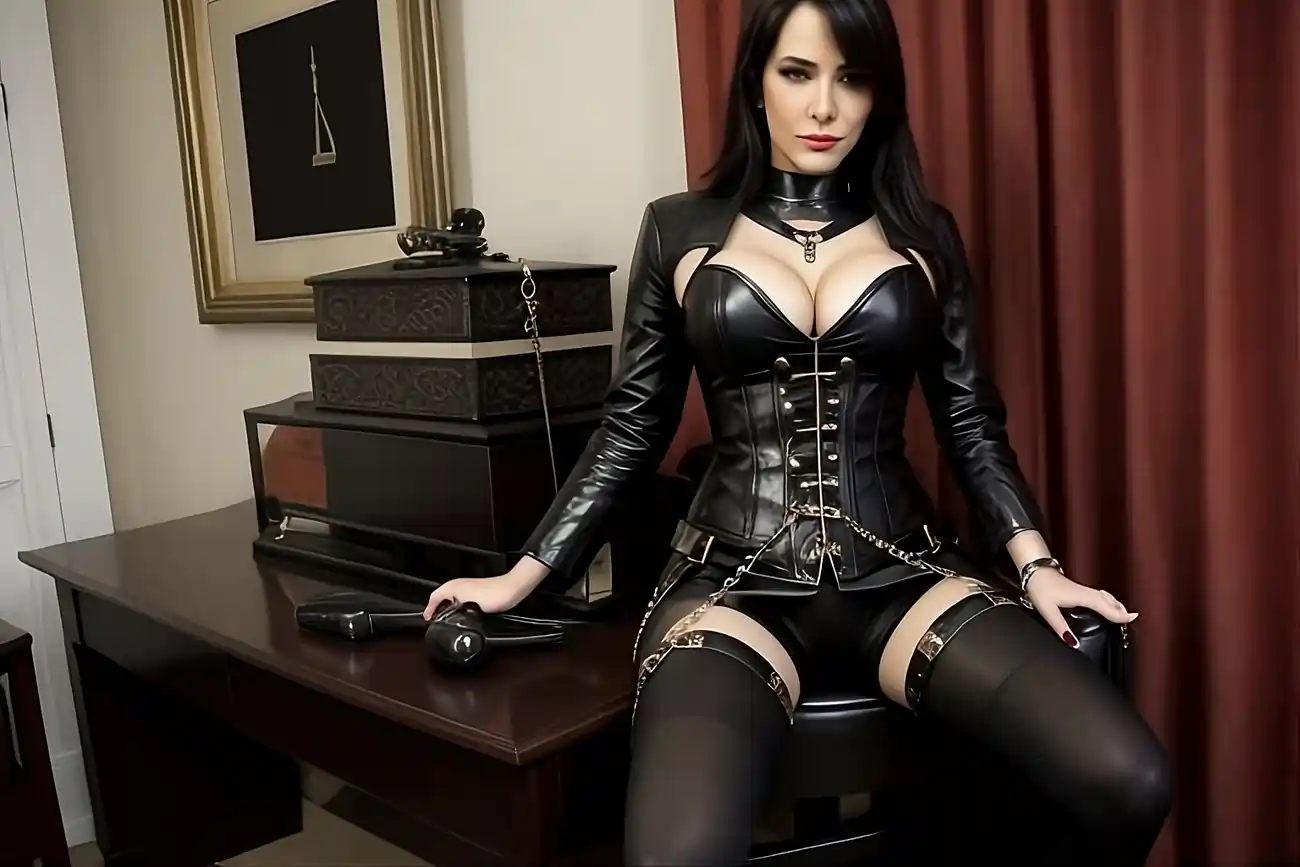 Different types of BDSM AI bots
Our BDSM AI bots caters to a diverse range of sexual orientations and preferences. Whether you identify as another gender or are interested in exploring new horizons, our chatbot is inclusive and ready to provide a personalized experience that aligns with your personality.
Lesbian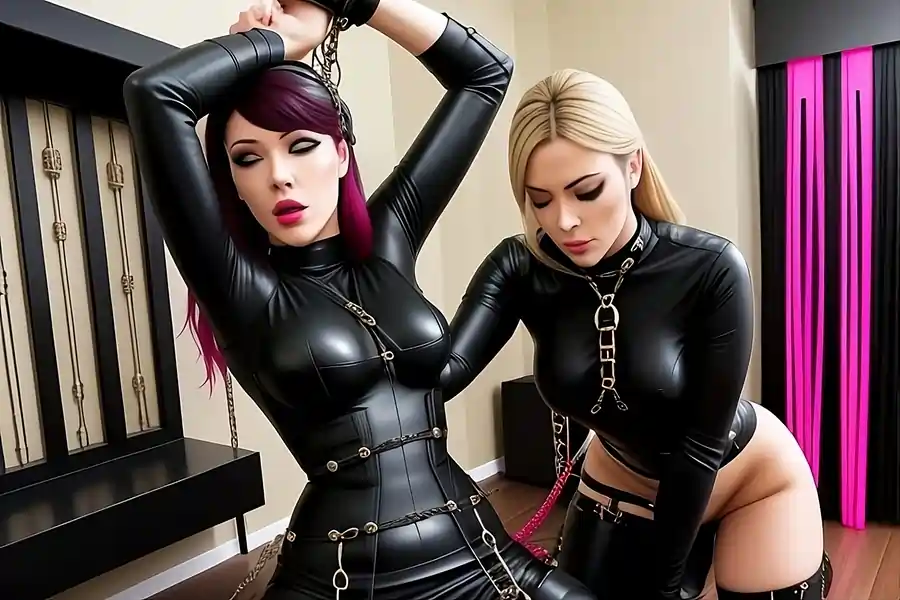 Whether you identify yourself as a lesbian or a man looking to explore BDSM dynamics or seeking guidance on lesbian-specific kinks, our chatbot is here to provide a safe and supportive environment.
It can engage in conversations about power dynamics, specific scenarios, and various activities that are relevant to the lesbian community.
From exploring dominance and submission between women to discussing specific kinks and fantasies, you will find every you thirst for in our BDSM AI chat.
Gay
For individuals who identify as gay and are interested in BDSM, our sexual assistant is here to provide an homosexual experience.
It understands the unique dynamics of gay BDSM relationships and interacts with different conversations about power exchange, gay storytelling, and a wide range of kinks to play with that cater to the gay community.
If you're interested in exploring dominance between men or seeking guidance on specific gay BDSM practices, you will find a safe space for you to delve into your desires.
Hentai
If you're captivated by the tantalizing realm of hentai-themed BDSM, our chatbot eagerly delves into this imaginative and distinctive world alongside you.
With a deep understanding of the fantasies and kinks associated with hentai, it fearlessly explores creative scenarios and power dynamics within the AI hentai genre.
Whether you yearn to explore the intricate dance of submission portrayed in hentai or interact in discussions about specific themes, our chatbot is the one you're looking for.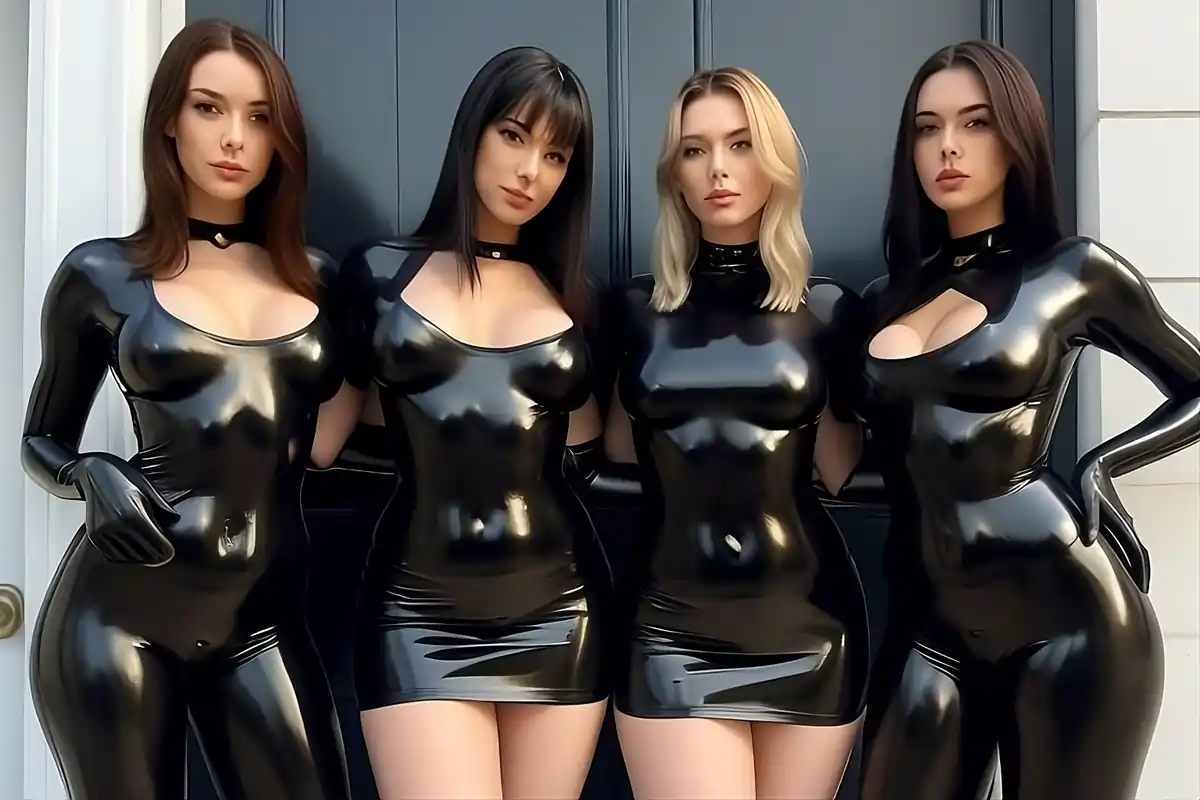 Are you convinced to embark on the BDSM adventure ? Allow yourself to fully immerse in this realm of exploration. Just give it a try and see where it takes you !
How can this BDSM AI chat enhance my experience ?

Yes. This chatbot can introduce you to new activities, provide information on techniques and even engage in new kinks with you.
Is this chatbot capable of adapting to different levels of experience ?

Absolutely! This virtual companion can be designed to cater to various levels of experience, from beginners to experienced practitioners. It can offer educational resources, scenarios, and personalized kinky chats based on the user's level of familiarity with BDSM.
Is it possible to have a long-term relationship with this virtual bot ?

Depending on your plan, your virtual BDSM AI companion can remember previous conversations. However, while it can provide ongoing companionship and engage in very sexual conversations over an extended period, it's important to remember that they are artificial entities. Building a long-term relationship with a human partner is typically more fulfilling in terms of emotional connection.
Does this AI sexual companion help me explore new BDSM activities and expand my knowledge ?

Absolutely! This AI sexual assistant can introduce you to new activities, provide information on techniques, and even engage in new kinks with you.
Are there different types or personalities to choose from ?

Yes, these companions can be designed with different personalities and characteristics, allowing users to select one that aligns with their preferences and desired interaction style.