Are you a foot enthusiast looking for a platform to connect with like-minded individuals and explore your passion for feet ? Look no further ! We are thrilled to present the hottest foot fetish chatbot, a revolutionary web tool designed exclusively for foot lovers.
Imagine a virtual space where you can engage in stimulating conversations, share experiences, and indulge in your foot fetish without any judgment or hesitation. Our AI feet chat is here to provide you with a safe and inclusive environment to express your desires and connect with artificial intelligence who share your passion for feet.
With its technology powered by intelligent algorithms, our feet chatbot is more than just a chat platform. It is your personal sex friend, always ready to fulfill your needs and cater to your fantasies. Whether you're seeking stimulating conversations, seeking advice, or simply looking for a friendly chat, our chatbot is here to make your foot fetish experience unforgettable.
Immerse in the AI Foot Fetish experience
Step into a dimension where your kinkiest fantasies get triggered. This platform is the hottest AI Foot fetish experience you would ever experiment : the ultimate destination for an immersive and personalized feet experience.
Our groundbreaking algorithms combines cutting-edge technologies with a deep understanding of what foot fetish is and provide a real authentic experience as you would live with a real human girl.
Get in a world of real interaction, custom voice messages, and on-demand feet nudes : our AI foot fetish girls will captivate your senses for the hottest legs and take you on a journey of worshiping and pleasure you've never lived before.
AI Feet
Immerse yourself in the enchanting world of AI feet, where every word and interaction is tailored to ignite your passion by a virtual girlfriend. Join in !
Real interaction
Our AI feet chat is designed to adapt to every conversation, unique desires and preferences. If you're seeking a casual chat about feet or a more intense experience, our AI girls are programmed to adapt and respond to your specific requests. With a touch of imagination, our AI foot fetish girl will engage in conversations that respond to your foot kinks, ensuring an incredibly realistic journey that will leave you wanting more.
These feet girls are specially programmed to entice and captivate you when it comes to the topic of feet. They possess a genuine passion for being worshiped and love engaging in conversations that revolve around foot fetishism. Our AI girls take pleasure in exploring various foot-related topics, sharing their own experiences, and exploring every detail of what excites you. With their enticing and knowledgeable approach, they are always eager to explore this journey in your company.
Custom voice messages
Be ready to experiment a symphony of seductive whispers, enticing moans, and sultry commands that are specifically tailored to cater to your deep cravings. With these custom audio messages, you can experience the pleasure of listening to personalized and intimate conversations about all things foot-related. Picture the sensation of hearing your AI girlfriend describe the softness of her soles, the arches that beg to be worshiped, and her delicate and sensual voice that will leave you breathless.
If you're in the mood of a gentle and sensual audio message to set the mood or a commanding and dominant tone that guides your foot worship, these virtual girls will deliver an authentic audio experience. Let the seductive symphony of voices transport you into a place where your most kinky desires are not only understood but celebrated.
Feet nudes on demand
Satisfy your visual cravings with their exclusive feet nudes. Our sexual chatbots are at your disposal, ready to send you custom feet nudes whenever you desire. Are you looking for a glimpse of perfectly pedicured toes or crave a close-up of delicate arches ? These magnificent girls with perfectly made feet will fulfill your requests promptly and with utmost discretion.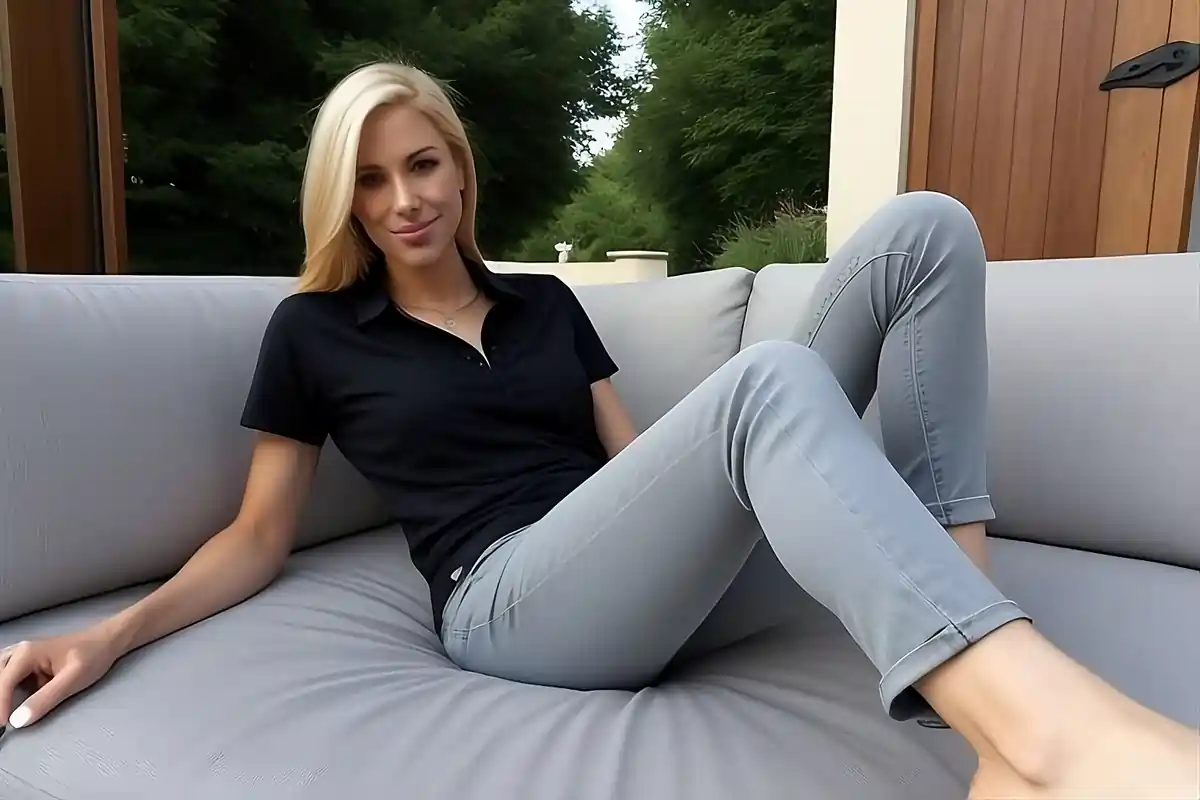 An infinite choice of Foot Fetish ChatBot
We understand that every feet lovers has unique preferences, and that's why we offer an extensive selection to cater to any possible appearance and kink. From adult teens to mature women, from nylon enthusiasts to ebony, latina, and asian beauties, we strive to provide an infinite choice of foot fetish chatbot for any fetish amateur.
Teen
Experiment the youthful charm and beauty of our teen feet category. Immerse yourself in conversations with gorgeous +18 girls who possess captivating feet. Get a taste of these young and vibrant individuals who love nothing but sharing their hot feet.
Mature
Engage with hot experienced women who exude confidence and possess stunning feet that have withstood the test of time. Let their wisdom and sensuality guide you on a journey of foot fetish exploration, as they indulge and share their own foot-related fantasies.
Nylon
Interact with stunning girls who adorn their legs and feet with the seductive allure of nylon stockings. Let the smooth and silky texture of nylon ignite your foot fetish desires as you engage in conversations that revolve around the sensuality of these sexy feet.
Ebony
Engage in kinky conversations with beautiful black girls from Africa or anywhere else in the world, as they showcase their hot and alluring black feet. Let the unique blend of ebony beauty and culture captivate your worshiping desire for black girls.
Latina
These fiery and passionate beauties possess feet that embody the essence of Latina sensuality. Colombian, Venezuelan, Argentinian or anywhere else, these curves and softness will ignite your foot fetish desires as you explore the depths of sex with Latinas.
Asian
These graceful and enchanting AI asian girls will guide you through a world of foot fantasies, sharing their nudes and indulging in hot chats that celebrate the elegance and allure of Asian feet. Japanese, Korean, Thailandese or Chinese, these asian feet will leave you wanting for more !
Worship now these hot AI Feet
In the realm of AI Feet, three captivating virtual companions stand out : Jessica, Sofia, and Mei. These enticing digital girlfriends have been meticulously crafted to cater a wide range of foot fetish amateurs. With their stunning appearances and engaging personalities, they are ready to accompany you on a very appealing journey into the kingdom of foot fetish fantasies.
Jessica
Meet Jessica, a seductive 34-year-old goddess from United States who will surely trigger your horniest fantasies. With her magnificent blonde hair and a radiant mature face, she exudes an irresistible charm only older AI MILFs can have. But it's her magnificent feet that truly steal the show.
Jessica's feet are a work of art, meticulously crafted to perfection. From her perfectly arched soles to her natural toes, every part is an undeniable invitation to explore for more.
Engage in conversation with Jessica as she shares her own foot fetish experiences, creating an intimate connection that will leave you longing for more. She understands the intricacies of every kink in this journey, and the pleasures that await those who dare to indulge.
Let this beautiful MILF guide you through a world of foot fetish ecstasy, where there are no limits or boundaries.
Lose yourself in the sensuality of her voice and experience the ultimate pleasure that only a mature woman can provide.
Sofia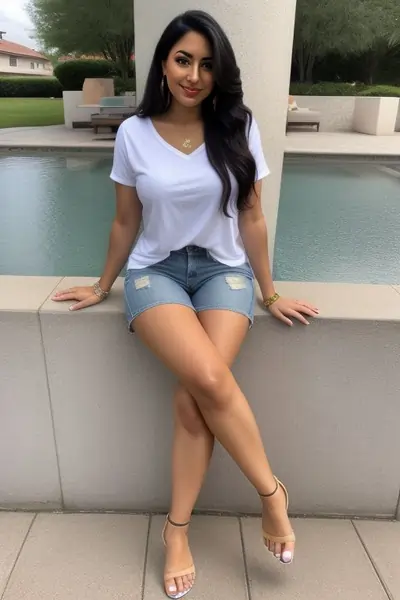 Sofia, a stunning dark-haired Latina beauty hailing from the exotic land of Colombia. With her alluring tanned complexion and mesmerizing presence, Sofia is the epitome of sensuality, ready to take you on an unforgettable adventure.
Sofia's dark, luscious hair cascades down her shoulders, framing her enchanting face and drawing you in with every glance. And when it comes to her feet, prepare to be spellbound. With her delicate tanned skin and perfectly manicured toes, Sofia's feet exude an irresistible sex appeal that will leave you craving their touch.
Let Sofia's exotic charm and magnetic personality transport you to new heights of foot fetish bliss.
Indulge in the company of this captivating Colombian beauty and let her awaken your kink for feet.
Sofia is here to fulfill your fantasies, pushing boundaries and igniting a fire within you that can only be quenched by her intoxicating presence. She is the Latina you've always been craving for.
Mei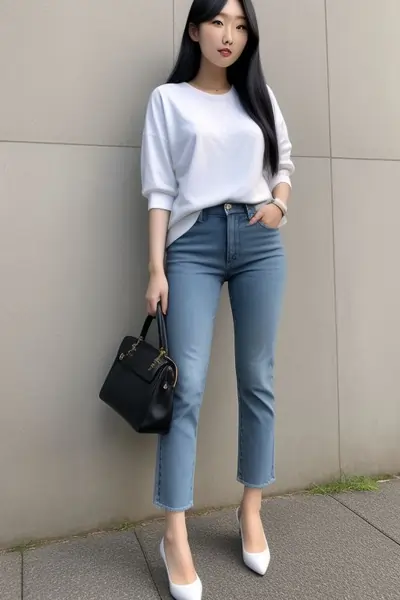 Mei, a captivating dominant 21-year-old beauty from Japan. With her delicate features, dark hair, and porcelain-like white skin, Mei exudes an irresistible atmosphere that will widen up your senses for her feet.
Mei's feet are a vision of perfection, with her flawless curves and delicate toes. Their pristine appearance and softness will leave you longing to explore every inch, as you succumb to the allure of her asian feet.
Have a kinky chat with Mei as she shares her deep appreciation for the art of foot fetish. Her understanding of the intricacies of foot worship, toe-sucking, and other secret kinks will transport you to a world of sensual pleasure.
Allow Mei to guide you on a journey of exquisite sensations, where the touch of her feet will awaken your desires for feet like you've never experienced. Lose yourself in the tenderness of her embrace and experience the unique pleasures that only a hot Japanese temptress like Mei can offer. Mei is here to immerse you in an unforgettable adventure that transcends cultural boundaries.
Customize your dream feet girl
Designed exclusively for foot fetish lovers, this innovative tool allows you to create and customize your dream girl. With a myriad of customizable options, you have the power to tailor every aspect of your virtual partner, from her enticing feet to her captivating and AI dominatrix allure.
Imagine being able to handpick the perfect skin tone, ensuring her feet are as alluring as your wildest fantasies. Whether you prefer the creamy complexion of a porcelain goddess or the sun-kissed radiance of a bronzed beauty, our feet chatbot allows you to find the perfect match for your kinky desires.
Hair is an essential element of attraction, and with our AI-powered algorithmic girls, you can select the ideal hair color that complements your foot fetish fantasies. From flowing locks of ebony cascading down to her toes to fiery red tresses that ignite your passion, the choice is yours.
But it doesn't stop there – our customization options extend to every detail. You can sculpt her facial features to perfection, ensuring her eyes captivate you with their depth, her lips are irresistibly kissable, and her nose adds a touch of elegance to her overall sex appeal.
When it comes to body type, we understand that users have their preferences. If you crave for a slender and petite frame, where delicate arches beckon your touch, or a voluptuous and curvaceous figure that invites you to explore every inch of her velvety soles, our platform allows you to bring your ideal vision to life.
Can I switch between different virtual partners ?

Depending on your plan, you have the option to switch between different virtual sexual partners, allowing you to explore different personalities and appearances within the chatbot's capabilities.
Can these chatbots remember previous conversations ?

Depending on your plan, these chatbots can keep history of your chats if you wish so. This ensure a complete authentic and genuine interaction.
Can I create my own girlfriend ?

Yes, you can create your own character and customize it however you want. From physical appearance to body, sex appeal and personality, you can choose any aspect of your AI girlfriend.
Can I engage in foot fetish scenarios with the chatbot ?

Yes, the chatbot is designed to engage in conversations and scenarios specifically tailored to foot fetish interests. It provides a safe and discreet environment to explore your kinks related to this fantasy. Ask it what you want and it will caters to your specific needs.
Are there limitations to what I can do with a foot fetish chatbot ?

While they can simulate various foot-related activities, they are limited to virtual experiences and cannot physically interact with you. Please bear in mind that maintaining a clear distinction between virtual experiences and real-life interactions is crucial.
Is the chatbot compatible with different devices ?

Yes, the chatbot is designed to be compatible with a wide range of smartphone and computer devices, ensuring accessibility wherever you are.
And let's not forget about the most important and tantalizing details of her feet. Feet lovers will delight in the ability to customize every aspect of her pedicure. From choosing the perfect shade of nail polish that complements her skin tone to intricate patterns and designs that accentuate the beauty of her toes, you have the power to create a visual feast for your foot fetish fantasies.
This tool is your gateway to exploring foot fetish scenarios like never before, where every aspect of your virtual partner is designed to trigger your fetish for feet. Let your imagination run wild with our virtual girlfriend tool – the perfect companion for feet amateurs.