Chaturbate Algorithm : How to rank to the front page ?
Chaturbate is a live webcam site that allows models to stream live adult content to its viewers. Currently one of the biggest in its industry, this platform hosts thousands of models live broadcasting. For models, ranking on the first page of Chaturbate is the holy grail. The higher you rank on the site, the more exposure you get, and the more likely you are to earn money. However, being featured prominently is not a reality for many models, forcing them to languish indefinitely on the back pages earning meager earnings. In this article, we will dive into the Chaturbate algorithm and discuss how models can rank to the front page.
Understanding the Chaturbate algorithm
What is the Chaturbate Algorithm ?
The Chaturbate algorithm is a complex set of secret rules internally known by their team only that determines which cam performers are displayed on the front page of the site. This algorithm uses a scoring system that takes into account factors. Their algorithm is designed to optimize user experience by suggesting the best content quality.
Why does it matter ?
This algorithm is important for viewers, it enable them to find the models they are interested in or or discover new ones. It ensure viewers to live an enhanced viewing experience by helping them find the content they want to see and ensuring that they are exposed to high-quality live shows.
For models, it determines how visible they are to potential viewers. The algorithm takes into account various factors to determine model's ranking. Being ranked higher in the algorithm increases the chances of performers to be viewed by potential clients, as they are situated on or closer towards the front page, which can lead to more tips and a larger fan base. Understanding how the algorithm works and what factors affect ranking can help performers increase their visibility and improve therefore earnings.
Factors that affect Chaturbate ranking
Chaturbate uses a scoring system to rank performers. This score is based on a variety of factors determined by their algorithm. Despite the lack of accuracy due to their secret system, we will intend to delve into every aspect of how their system work. So how does Chaturbate rank rooms ?
Viewers
The number of viewers in your room is a key factor in your ranking. But it's not just about quantity; the quality of engagement with your viewers is also important. The more engaged your viewers are, the more likely they are to stay in your room and make you rank up in their system. It also crucial to note that a greater number of viewers with a high amount of tokens in their balance watching your show can amplify your chances of being featured on the front page. As such, more purple users get in your chat room and engage with your stream, the more likely you will rank up.
Time spent broadcasting
The site's algorithm rewards performers who spend more time broadcasting. The longer you're online, the more exposure you'll get, and the higher your chances of being displayed on the front page. This shows that you're committed to providing quality content and engaging with your audience.
Tip volume
The amount of tips you receive is a major factor in increasing traffic to your chat room. The algorithm favors performers who receive more tips as it increases the platform's income, so it's important to encourage tipping through interactive shows, games, and incentives.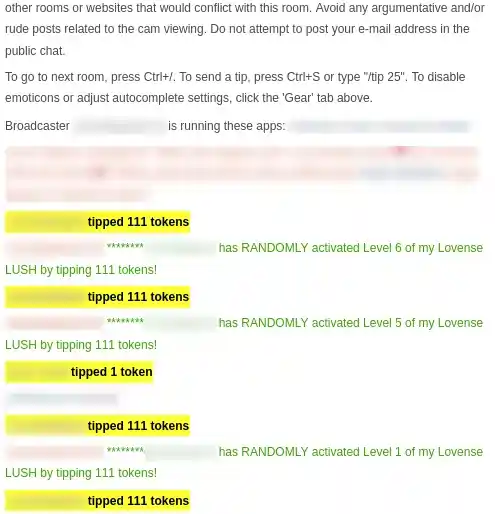 Profile quality
Although not the most important in their rank system, it is worthy of recognition as it can be effortlessly set up. Your profile is the first impression viewers have of you. A complete and well-designed profile can help you attract more viewers and increase your ranking. It's important to include a detailed bio, high-quality photos and videos, and links to your social media accounts. Indeed, it can give potential viewers a better idea of who you are and what you offer. This can include information about your interests, kinks, and sexual preferences, as well as details about your physical appearance and personality.
Having a complete profile also shows that you are serious about your work as a cam model and that you take pride in your image. This can help to build trust with viewers and make them more likely to tip or purchase private shows from you. Also, a well-designed profile can be visually appealing and help to catch the eye of potential viewers. This can include using high-quality adult content, creating an attractive layout, and using eye-catching fonts or colors.
Shows notation
When a performer receives a good mark on their shows, it can have a positive impact on their overall ranking on the site. Therefore, overall rating, which is based on feedback from viewers can contribute to boost the performer's visibility on the site.
Additionally, a good mark can lead to repeat business from satisfied customers, which can further comeback by tipping again and therefore increase the performer's popularity and ranking.
How to get on the front page ?
Making it to the forefront of the main page entails numerous challenges. By addressing a range of factors, like those previously or later mentioned, the chances of landing on their featured page can be enhanced. To achieve better positioning, it is crucial to remember the above-mentioned factors and make them your target. As such, your efforts to enhance your ranking must have a clear and direct link to the previous factor we've been considering.
Engage with your viewers
Do not let yourself being glued to your phone screen. Never. Engaging with your viewers is essential to keeping them interested and staying in your room (even the free/grey ones). An active room is highly beneficial to please the algorithm. Encourage interaction through interactive shows, games, cam to cam and incentives. Respond to their messages, ask for feedback, and create a friendly atmosphere that encourages interaction. This will help build an active loyal fan base and keep viewers coming back for more.
Optimize your profile
A well-designed and complete profile can help you stand out. Make sure your profile includes a detailed bio, high-quality pictures and videos, and links to your social media accounts.
Create a consistent schedule
Creating a consistent schedule can help you attract regular viewers and increase your visibility on the platform. Consider broadcasting during peak hours when there are more viewers online. You could also consider changing your schedule. Do you feel more awake and alert in the mornings, during the day, or at night ? Give it a shot and see if it helps you perform better.
Change your approach
Trying different show formats can help you attract new viewers and keep your regulars interested. Consider trying new interactive games or incorporating themed shows like offering special shows or events. For example, you could schedule a cosplay show or a themed show based on a popular activity. This will create excitement and anticipation among your followers, and they will be more likely to tune in for the event.
Tech is your help
Use interactive toys. Using connected toys and tech can increase viewer interaction and lead to more tips. Consider using toys that can be controlled by viewers or experimenting with virtual reality.
Use tags efficiently
Using tags efficiently is a crucial aspect to get featured. Tags are essentially keywords that help users find your content when they search for specific terms. Therefore, it's essential to use relevant and popular tags that accurately describe your content. To use them in an efficient manner, you should research popular tags related to your show and incorporate them into your chat room's title.
Get promoted
Pay Chaturbate for first page
Occasionally, eligible Independent Broadcasters can avail the opportunity to buy a rotating promoted slot on the front page. The platform usually charges (but not always) between 50 and 100 tokens to reach a slot in the front page. This kind of boost is likely to last 5 minutes. You can find more details there.
Is it worth it ? Some performers say that it doesn't hardly have any influence while some say it helped them rank up a few pages up. For the worst, you get a little peak of viewers when you turn on the promotion, but once the few minutes over, you'll go back to the square one. If you're tempted to try, be sure to show the best of you while you're being promoted. Make sure you're ready and have a good plan before you spend your money. That way, you'll get the most out of it. Let us know in the comments how your attempt turned out !
Although this can be beneficial in some circumstances, relying solely on this paid promotion can lead to a lack of organic growth and engagement from viewers. Building a loyal fan base through consistent high quality content and engagement is crucial for long-term success.
Buy Chaturbate rank services from agencies
You can purchase rank-enhancement services through third-party agents or middlemen who will strive to improve performer scores towards the algorithm. Before using any rank service, make sure to do your research and carefully evaluate the steps they will take to promote your chat room. Look for services that prioritize organic growth and engagement with real viewers, rather than relying on artificial methods.
Some of these services may use tactics that violate Chaturbate's terms of service, such as creating fake accounts or engaging in spamming. If you're caught using these services, you could face penalties or even have your account suspended.
However, it is important to bear in mind some advantages and drawbacks of these kind of services :
Being featured on the front page can increase a performer's visibility and attract more viewers, which can lead to higher earnings.
Getting promoted by an agency that specializes in adult entertainment marketing and promotion can save time and effort for performers who may not have the skills or resources to promote themselves effectively. It allows models to focus solely on their live shows.
Arguments against :
Depending on the terms of the promotion agreement, performers may have to share a significant portion of their earnings with the agency, which could reduce their overall income.
Agencies may use tactics that violate Chaturbate's rules or guidelines, such as creating fake accounts or engaging in spamming. Carefully choose an agency working within the platform's bound rules.
Overall, while these kinds of services can be a great option, it is important to carefully not rely solely on them and satisfy your viewers the most as possible to keep them engaged in the long run.
Conclusion
Finally, now you know what get you to the front page, don't be afraid to experiment with new strategies. Try new content, engage with your viewers in different ways, and be open to feedback from your viewers. By staying flexible and adapting to change, you can stay ahead of the game. Improving your Chaturbate ranking is a continuous process that requires patience, dedication, and experimentation. By understanding the Chaturbate algorithm and adopting best practices to optimize your performance, you can increase your visibility, attract more viewers, and grow your income. With persistence and creativity, you can stand out and build a successful career as a webcam model.