Lovense Lush Patterns : Customize your pleasure
The Lovense Lush is a popular Bluetooth-enabled vibrating sex toy with a pink tail designed to provide intense and discreet intimate pleasure. If you're looking to take your Lovense experience to the next level, creating your own custom patterns can be a great way to unlock new levels of pleasure. By leveraging the power of its app, you can create custom vibration patterns tailored to your specific desires or preferences. Through it, you can select from various pre-programmed patterns or create your own personalized sensations. In this article, we'll explore how you can create your own Lovense patterns, step by step, and help you unlock a new world of sensual possibilities.
What are Lovense Lush Patterns ?
Lovense Lush patterns refer to the pre-set sequences of vibrations programmed into the toy or custom sequences that can be created and controlled through the Lovense app. The toy includes ten different pre-set vibration patterns such as tease, pulse, wave, and earthquake, each with adjustable intensity. However, what sets the Lovense Lush apart is its ability to create your own personalized patterns according to your taste and preference.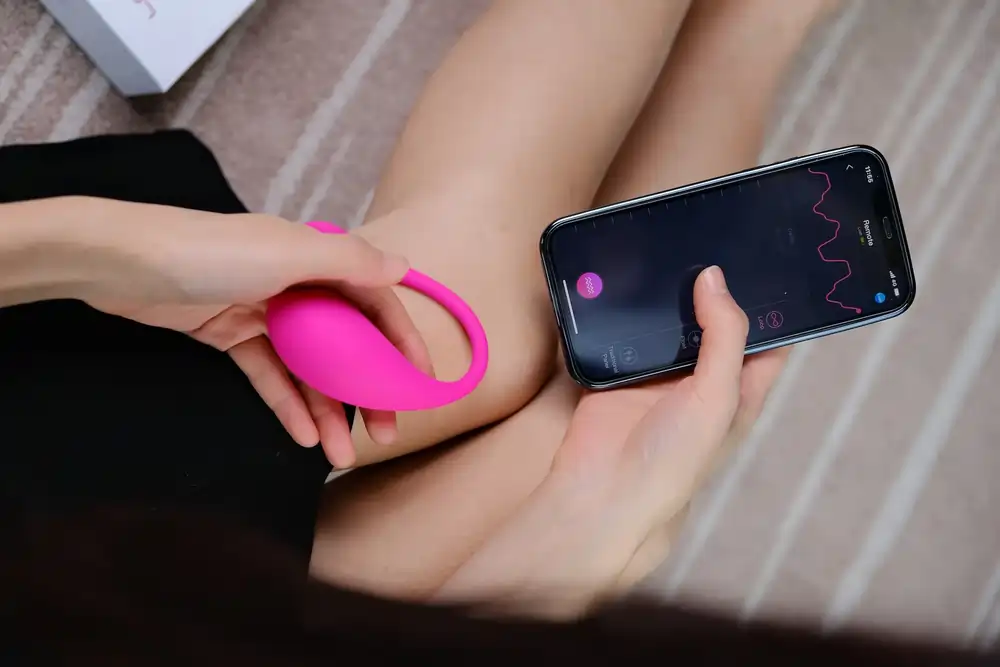 What are their benefits ?
Lovense Lush patterns offer many benefits for solo play or during partner play. Some benefits include:
Enhanced stimulation – The patterns can be designed to increase pleasure, providing a more intense experience than traditional vibration modes.
Variety – With 10 pre-set patterns and the option to create custom patterns that can be saved for future use, users can create diverse and unique experiences for their pleasure.
Increased intimacy – Lovense Lush patterns allow for easy and discreet control of the device, which can be used by couples to increase intimacy, providing a fun and adventurous way to "spice things up" in the bedroom.
Long-distance play – For long-distance couples, the app can serve as a remote control, allowing partners to take control of the toy through the app no matter where they are in the world.
Discreet – The Lovense Lush patterns can be designed to be silent and less strong, so it can be used discreetly in public without arousing suspicion or drawing attention.
How to Create Custom Patterns ?
To enhance your Lovense toy experience, you have the option to create personalized and boundless vibration patterns using either your keyboard or mouse. These patterns will seamlessly synchronize with your videos, allowing your toy's vibrations and movements to correspond with those of the actor, actress, or model you are watching. This feature provides an immersive and interactive experience that will elevate your pleasure to new heights.
Creating a personalized Lovense Lush pattern is an easy and fun process. Users can create their custom patterns through the app, which can be downloaded from the App Store or Google Play. Once you have installed the app, connect your phone with the toy via Bluetooth, and click on the Patterns option. From here, you can create and edit different vibration patterns by adjusting the intensity and duration of each. You can even name and save the patterns for future use or share them with your partner through the app.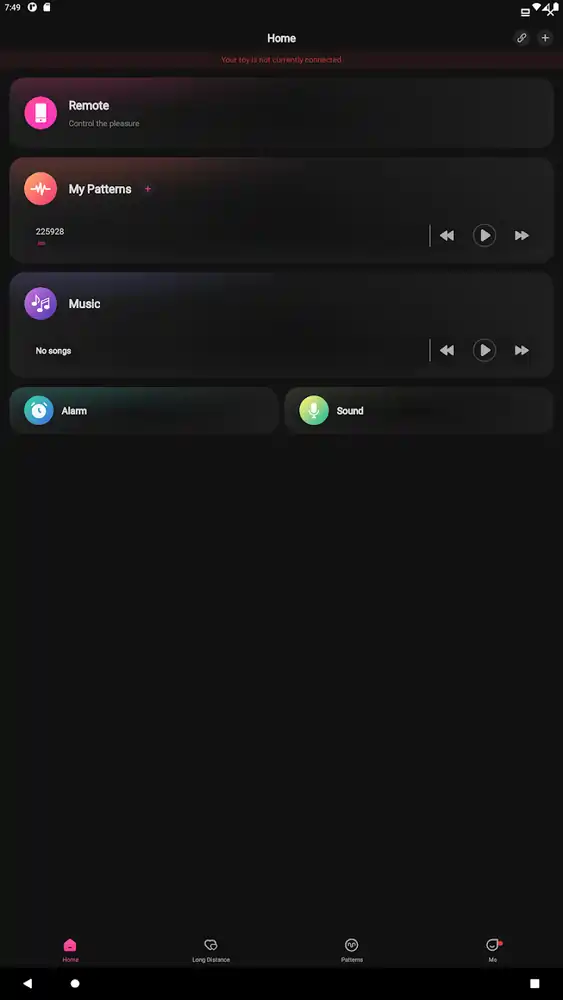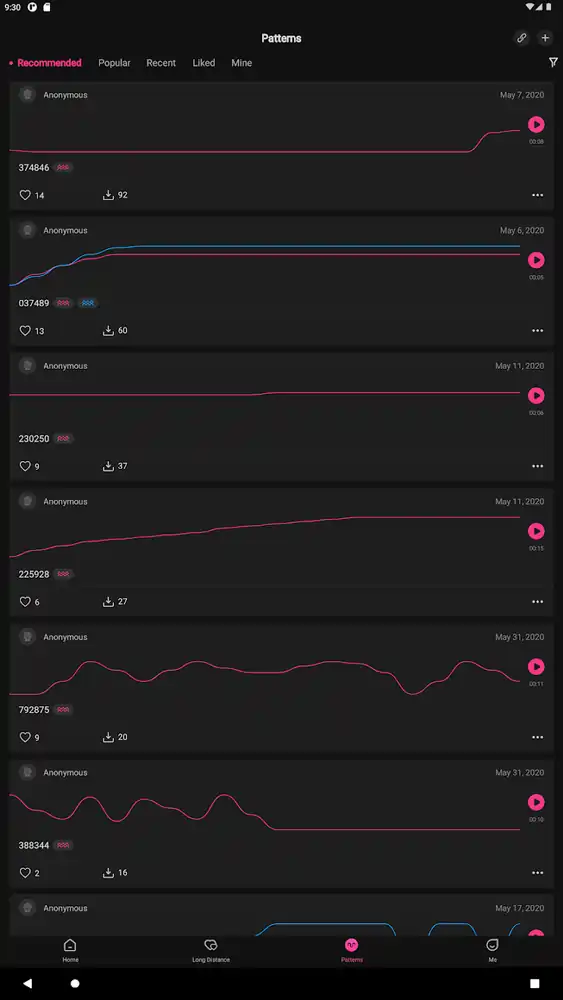 Download and share your creativity
After saving your pattern, you have the option to share it with the Lovense community by making it public. This allows other users to try out your creation and experience the same pleasure you did. Additionally, you can explore and download patterns that have been uploaded by other members of the community.
Share patterns
One of the great things about the Lovense app is that it allows you to share your custom patterns with other users of the Lovense community. To do so, simply follow these steps:
Open the Lovense app and select the "Pattern" tab.
Locate the custom pattern you want to share and tap on it.
Tap the "Share" button, which looks like an arrow pointing upwards.
A pop-up menu will appear with several options for sharing your pattern. You can share it via email, social media, or even as a QR code.
Once you've shared your custom pattern, other Lovense users can import it into their own app and use it for their own pleasure.
Download patterns
If you want to download custom patterns directly from other users, it's easy to do so. Simply follow these steps:
Open the Lovense app and select the "Pattern" tab.
Click on the plus sign button located at the top right corner of the screen.
Follow the prompts to create your own custom vibration pattern.
Once you've created your custom pattern, click on the save button located at the bottom right corner of the screen.
The chosen custom pattern will now be saved and can be accessed from the "Pattern" tab in the Lovense app.
What are the best patterns ?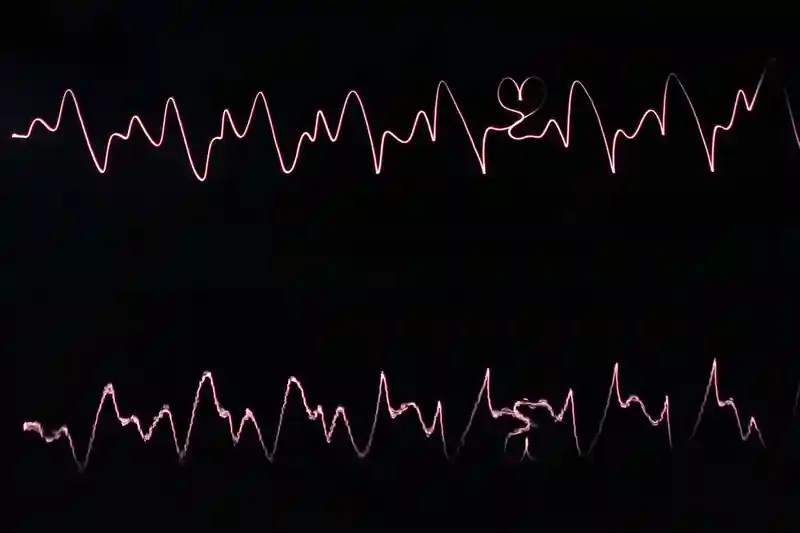 Pulse : The Pulse pattern is a fan favorite. This pattern enables the toy to vibrate in a pulsating manner, creating amazing ripples of sensation that ripple through the body. This pattern is ideal for those who enjoy extended teasing and build-up before reaching climax.
Oscillate : The Oscillate pattern is another amazing of the Lovense toy. With this pattern, the toy vibrates in an oscillating manner, mimicking the sensation of penetrations. This pattern is excellent for those who love deep penetration.
Surf : The Surf pattern is yet another fan favorite. This is an excellent pattern for those who enjoy a rhythmic pulsating sensation that gradually builds up before climax. This one is ideal for intensifying arousal and prolonging pleasure.
Spark : The "Spark" pattern is a fantastic option for those who want to add more intensity to their pleasure. This pattern creates a rapid pulsing sensation that quickly builds up to a peak before subsiding. This pattern is perfect for those who love intensity and high stimulation.
Wave : The Wave pattern is also another good one of the Lovense toy. This pattern creates waves of sensation that start off slow and gradually build up to a climax. It is ideal for creating long, drawn-out experiences that leave you craving more.
Ultimately, the best pattern comes down to personal preference, and users can experiment with different patterns to find the perfect one that suits their desire. The Lovense Lush, with its customizable patterns and discreet design, is a revolutionary sex toy that provides a new level of pleasure and intimacy for couples and individuals. From the variety of pre-set patterns to the creation of own personal patterns for play, Lovense Lush patterns offer limitless possibilities, providing users with a unique and exciting experience. The Lovense Lush is a powerful and must have sextoy which significant feature enhances a great user's experience.