Chaturbate : Unable to process transaction. Solved
Chaturbate is a very well known platform that offers live adult webcam shows. While the site is known for its user-friendly interface and variety of freemium content, some users may encounter issues with transaction processing when trying to purchase tokens or buy premium features. Whether it's due to technical issues, insufficient funds, or security measures, transaction processing failures on this platform can be frustrating for users eager to elevate their experience to the highest level. In this article, we'll explore the reasons behind transaction processing issues on Chaturbate, how to troubleshoot common errors, and strategies for avoiding these problems.
The importance of transactions on Chaturbate
By engaging in transactions and therefore purchasing tokens, Chaturbate users can unlock a plethora of premium features that the platform has to offer. These include private shows, ticket shows, private messaging, the ability to control performers' toys, and many other exciting features. By acquiring tokens, they can enhance your experience on the cam site and gain access to exclusive content that is not available to non-paying users.
Can't buy tokens, how to fix it ?
Chaturbate is a popular and robust platform, but it is not immune to transaction processing failures. These failures can be frustrating for both performers and users, and it is important to understand the reasons behind them.
When users cannot buy tokens and result in a transaction processing failure, they may see the following error messages :
Unable to process transaction
Your payment was declined, please try again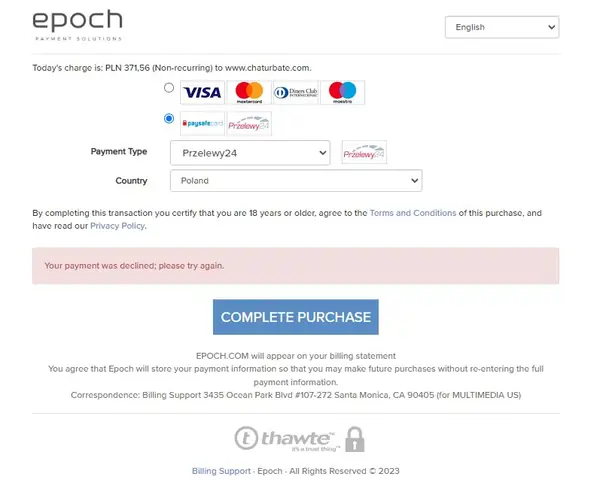 Account issue
There are several reasons why you may be experiencing issues with your Chaturbate transaction, but the first and easiest cause to look into could be a problem with your account. To resolve this issue, we recommend creating a new Chaturbate account and attempting the transaction again.
Technical issue on your device
One potential issue that may cause transaction problems is a malfunction with your device, such as a problem with your browser. To address this issue, follow these steps in order :
Insufficient funds
Insufficient funds is one of the most prevalent reasons for transaction processing failure. This issue arises when a user attempts to make a payment or purchase, but their account balance is insufficient to cover the transaction. Please make sure you have the minimum amount before attempting to make a purchase.
Payment method issue
One of the other common reasons may be the non-acceptance of your credit card by the payment gateway. For example, American Express credit cards are usually not accepted on Chaturbate due to their policy of not working with adult services.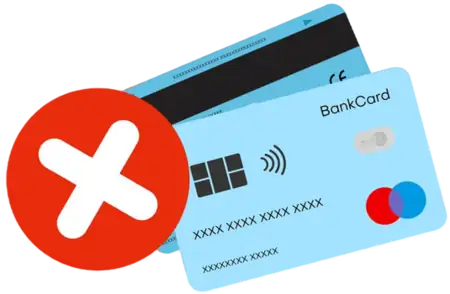 To avoid such issues, it is essential to ensure that your payment provider does not block payments. If you are unsure, try using another credit card and even way of payment. If you are uncertain about the available options for purchasing tokens, we recommend checking out our informative article on how to buy tokens.
Technical issues
Occasionally, technical issues with Chaturbate's payment system can cause transaction processing failures. These can include server downtime or glitches with the payment gateway. It is recommended to check their status site to confirm that everything is functioning properly on their end.
Security and fraud prevention
The platform has strict security and fraud prevention measures in place, which can sometimes result in transaction processing failures. These measures are in place to protect both users and performers from fraudulent transactions, but they can also cause legitimate transactions to be flagged and blocked. It is then important not to use a VPN as they could flag the transaction.
How to contact billing support for assistance
Chaturbate has a dedicated department for billing issues. When contacting them for transaction processing issues, users should provide their username, the error message they received, and any relevant transaction information, such as the date and time of the failed transaction.
You can contact them for billing issues at [email protected]. You can also check our entire guide on the most efficient ways to reach Chaturbate team.
Their support is generally quick to respond and helpful when resolving transaction processing issues. They may request additional information or ask users to try certain troubleshooting steps. If the issue cannot be resolved, they may escalate the case to the payment processor for further investigation.
Payment accepted !
Transaction processing failures on Chaturbate can be caused by a variety of factors, but there are steps you can take to prevent and resolve them. By staying up-to-date on payment methods and policies, recognizing potential issues, and seeking assistance from Chaturbate support when needed, users can enjoy a seamless experience on the site. If you do encounter transaction processing problems, follow the troubleshooting tips outlined in this article and don't hesitate to reach out to their support for assistance. Also, you can write a comment below and we will try to help our best !
FAQ
What should I do if my transaction fails ?
If your transaction fails, the first step is to review your payment method information to ensure everything is up-to-date and accurate. If that doesn't resolve the issue, check for any error messages or notifications from Chaturbate and follow the troubleshooting tips outlined in this article. If you're still unable to process the transaction, contact them for assistance.
What is the best way to contact billing department ?
Chaturbate offers several methods of support, including email, live chat, and a support ticket system. However, to contact the billing department and get your issue resolved promptly, send an email to [email protected]. Be sure to provide as much information as possible, including your username, the transaction in question, and any error messages or other details that may be helpful for resolving the issue.
How can I avoid future transaction processing failures ?
To avoid future transaction processing failures on Chaturbate, make sure your payment methods are up-to-date and have sufficient funds available before attempting a transaction. Do not use a VPN when making a purchase to avoid a suspicious fraud detection. Finally, consider using different payment methods or funding sources to diversify your options and reduce the likelihood of future problems.