Chaturbate Verification Process : Everything explained
Chaturbate is a famous adult site that provides live webcam shows by amateur and professional models from all around the world. However, to ensure the safety and security of their users and also to comply with local laws such as the 2257 compliance, the website has a strict verification process for all the models who want to perform on the platform.
The 2257 compliance is a set of regulations that require producers of adult content to maintain records verifying the age and identity of performers. By complying with these regulations, producers can avoid legal issues and ensure that their content is ethical and responsible. This not only protects the performers involved but also helps to prevent exploitation and abuse within the industry. Ultimately, adhering to the 2257 compliance standards is essential for maintaining a safe and reputable adult entertainment industry.
The verification process for Chaturbate is a simple-step process that requires no more than a few minutes of your time. After having created a free account on the website and provided some basic information, such as your name, age, and gender, you will receive an email verification link from the website. You need to click on this link to activate your account and start the verification process.
How to submit age verification ?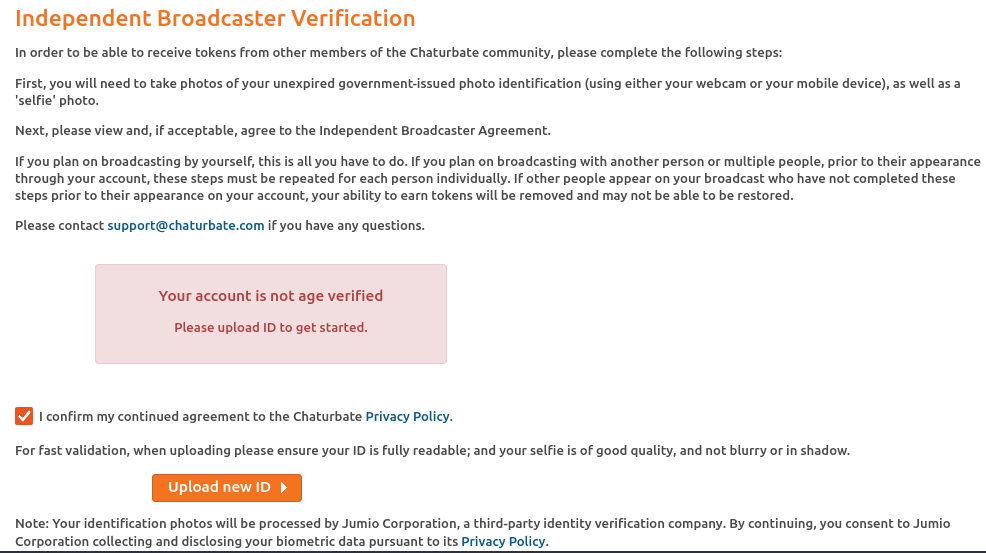 Before submitting age verification, you must first gather the necessary documents. Chaturbate accepts a variety of forms of identification, including government-issued IDs such as a driver's license, passport, or national ID card. You will need to provide a clear, color copy of the front and back of your ID.
In addition to your ID, you must also provide a picture of you holding your ID. The platform use this information to verify your age and identity and ensure that you are legally allowed to perform on the platform.
Once you have gathered your documents, log into your account. To access the verification form, click on the "Age Verification" link in the left-hand menu of your account page. This will take you to the verification form.
If you haven't completed your profile during the registration, the form will ask for your name, date of birth, and the country where you reside. You will then need to upload the copies of your ID and the picture of you holding your ID.
How long does verification take ?
After submitting the verification form, you will need to wait no more than 5 minutes for your documents to be reviewed, as this is an automated AI verification processed by a third party. The process can sometimes last longer, but it is often much quicker. Once your documents have been approved, you will receive an email letting you know that your account has been verified.
How to broadcast without age verification ?
It is important to understand that age verification measures are put in place for the safety and protection of users, particularly minors. By attempting to bypass these restrictions, individuals are not only breaking the rules but also putting themselves and others at risk.
Furthermore, platforms have sophisticated algorithms and security measures in place to detect any attempts at hacking or circumventing age verification. These measures are constantly being updated and improved to ensure that users are protected.
Thus, there is no age verification hack and it is not possible to bypass these restrictions. Any attempt to do so would violate the terms of service and result in a permanent ban from the platform at best.
Is it a safe practice ?
Chaturbate states in their privacy policy that their verification process is secure and that their personal information will not be shared with third parties. The site uses SSL (Secure Socket Layer) encryption to protect user data during transmission, and takes other measures to ensure the safety of user information, such as storing them on a secure, close-ended system.
It is important to note that verifying personal data on any website requires sharing personal information, which always carries some level of risk anytime. These risks can include a potential data breach and unauthorized access from wrongfully third parties.
Are ID documents shared with third parties ?
Your documents and selfies are shared with Jumio Corporation. This company is in charge of the automated verification process. This means that Jumio Corporation will use advanced algorithms to analyze your documents and selfies to verify your identity and age. This process is automated, which means that it is faster and more efficient than manual verification methods.
Why was my age verification denied ?
As we're not from the Chaturbate support, we cannot indicate the reasons why your age verification was denied. However, there could be several reasons why this happened. Some of them are :
Wrong information : It could be due to incorrect information provided during the verification process. This is why it is crucial to ensure that all the information provided during the verification process is accurate and up-to-date. Any discrepancies or errors in the information can lead to rejection or denial of the request. Therefore, it is essential to double-check all the details before submitting them for verification.
Age requirement : You must be at least 18 years old and of age in your jurisdiction. Minors are strongly prohibited and trying to verify will result in a denial from the Platform. It's important to remember that photo IDs have expiration dates, and if you've had yours for a while, it's possible that your appearance has changed significantly since the photo was taken. This can cause issues when trying to verify your identity with a selfie. If you suspect that the age difference between your photo ID and your selfie is causing problems, it may be worth trying to verify your identity with a more recent document. This could be something like a passport or driver's license renewal, which would have a more up-to-date photo of you.
Invalid form of identification : It is important to ensure that you have a valid form of identification before submitting any application. This could include a driver's license, passport, or government-issued ID card. Additionally, the site does not accept Permit, Temporary IDs and Birth Certificates.
Bad quality : Your ID is cropped or not visible enough. Make sure every details on your documents are clear and readable. If the images are blurry, unclear, or do not meet the required specifications, it can make it difficult for the system to match your face with the ID photo. This could lead to a denial of your application as it raises doubts about your identity and authenticity.
Outdated identification : The platform only accepts current valid documents. Expired forms of documents will not be accepted.
Technical issue : This means that if there is a technical problem with the website, it could prevent your application from being processed or even submitted. This could be due to a variety of reasons such as server downtime, software glitches, or internet connectivity issues.
If you are unsure about why your verification was denied, it is best to contact Chaturbate's customer support team for assistance. They can provide more information and help you resolve any issues that may have caused the denial.
Although the process may seem extensive, it ensures that only legitimate models are allowed to perform on the platform and aid in the production of high-quality content. Indeed, submitting age verification on Chaturbate is a straightforward process. By providing clear copies of your ID and a picture of you holding your ID plastic card, you can quickly verify your age and gain access to the site's reserved areas. If you are having trouble submitting age verification or have questions about the process, reach out to Chaturbate's support team for assistance, or write us below in the comment section.