Chaturbate : Banned from Model's Room. Full Guide

We no longer present and it is no longer worth presenting one of the biggest or the biggest webcam site online Chaturbate, allowing users to watch live shows and interact with models in real-time. However, like any online community, this cam site has rules and regulations that users must follow to ensure a safe and respectful environment for all. If you break these rules, the model may decide to ban your account from his chat room. In this article, we'll explore some of the most common reasons for being banned from a model's room, as well as what you can do to avoid being banned and how to handle a ban if it does happen. We'll also discuss the importance of respecting limits and boundaries in Chaturbate shows, and tips for staying safe and enjoying the platform responsibly.
What happens when I get banned ?
Being banned from a broadcaster's chat room on Chaturbate can be a frustrating experience for users. It means that they are no longer able to interact with the model or other users in that particular chat room.
If you find yourself banned from a model's chat room, it is important to understand that this is a serious matter. It is crucial to review the site's rules and regulations to ensure that you do not repeat the same mistake in the future. Additionally, it is important to respect the model's boundaries and not engage in any behavior that may be deemed inappropriate or offensive.
If you attempt to enter the chat room of the model who banned you, you will receive a message stating "access denied. You are banned from this room."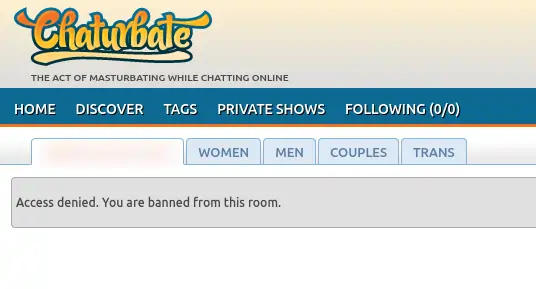 You can still access the cam site and interact with other online cam girls who have not banned you. However, the broadcaster who banned you will not appear in your list of followed models. If you attempt to access their URL, you will receive the previous stated message. Unfortunately, you will not be able to watch or chat with the banned model, view their profile, or access any purchased pictures or videos. Additionally, you cannot send tips or follow the model.
Why I got banned ?
As a user of Chaturbate, you may have encountered situations where a model suddenly bans you from her room without any apparent reason. This can be frustrating and confusing, especially if you have been following the site's rules and etiquette. However, instead of feeling discouraged or resentful, it's important to take a step back and try to understand the reasons behind the ban.
Firstly, it's worth noting that models on have the right to ban anyone from their room for any reason, as long as it doesn't violate the site's terms of service. This means that even if you think you haven't done anything wrong, the model may have perceived your behavior as inappropriate or disrespectful.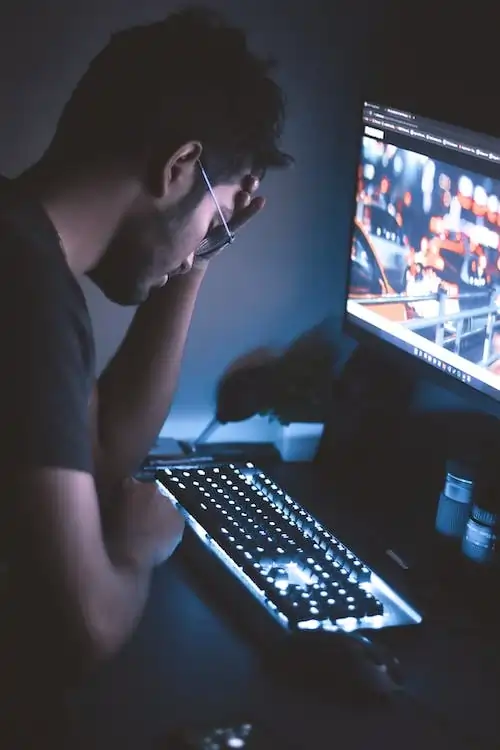 Breaking the rules : The most common reasons
The most common reasons for being banned from a Chaturbate model's room are inappropriate behavior, harassment, spamming, and disrespecting the model's boundaries. Additionally, users can be banned for asking models to perform illegal or explicit acts that violate site's policies.
Specific behaviors that can get you kicked
Before you work out how to get yourself unbanned, you may need to find out why you got banned in the first place and see if it can be explained or apologized for. There are many reasons, both intentional and unintentional. For example,
Your requests are in violation of the site's terms and conditions. You may have requested actions or niches that are prohibited by the rules. Alternatively, you may have shared your personal contact information with the models in order to arrange a cam show outside of the platform. However, models are unwilling to risk getting banned and would rather straightly ban your account.
It is important to maintain proper etiquette when interacting with others in a chat room. Engaging in behavior that is considered rude can be detrimental to the performer and other attendees. Even seemingly minor actions, such as chatting in all capital letters, can be perceived as disrespectful. It is important to be mindful of others and their sensitivities in order to create a positive and enjoyable atmosphere for all.
You may encounter situations where certain models prevent other broadcasters from visiting their room by adjusting their settings. This is typically done to avoid unwanted attention from other models who may be looking to promote themselves to the same audience. It's important to understand that models are protective of their viewers and want to ensure that their experience is not disrupted by unwanted solicitations.
Begging for free is considered disruptive to the chatroom and does not contribute to the community. Individuals who continuously beg for the same request without ever tipping will be promptly silenced or banned. It is important to respect the value of others' time and efforts, and to contribute to the community in a positive manner. Therefore, refrain from begging and instead engage in meaningful conversations and interactions with fellow members.
If you have engaged in flirtatious behavior with a cam girl and disregarded her boundaries by persisting despite her lack of interest, you have likely overstepped your bounds.
Your account could have been compromised and utilized to promote other models, websites and engaging in spam activity, resulting in your account being flagged by the models. This unauthorized activity could have caused significant inconvenience and potential damage to your account. We strongly advise you to take action to secure your account if you notice any suspicious action.
Specific behaviors that can get users banned include asking for personal information, demanding free shows or videos, being disrespectful to other users or models. Users who refuse to listen to warnings or engage in malicious activities like hacking can also face permanent bans.
It is important to note that repeatedly entering and exiting a model's chat room is often prohibited. This is because it can flood the chat with notices such as :
user has entered the chat room
user has left the chat room
user has entered the chat room
user has left the chat room
How does the ban by models last ?
Banned from the whole room
Models on Chaturbate can impose various levels of restrictive measures :
Users can be silenced for a duration of 6 hours by default.
By default, suspend a user for one month.
Terminate a users access to his chat room indefinitely.
This policy has both positive and negative implications. On one hand, banned users are given a second chance to return and behave appropriately. On the other hand, banned users are allowed to return after a mere month and continue causing trouble.
It is important to note that the decision to permanently ban a user should not be taken lightly. It should only be used in cases where the user has repeatedly violated the rules and shown no signs of improvement. Additionally, the reinstatement of banned users after one month should not be seen as a guarantee of good behavior. It is up to the user to demonstrate that they have learned from their mistakes and are committed to following the rules in the future.
Silenced from the chat
By default, models and their mods have the ability to mute users for six hours. However, models also have the option to convert this temporary mute into a permanent ban. This means that the user will no longer be able to participate in the chat or interact with the model in any way.
How to get unbanned from model's room ?
In the past, it was considerably more challenging to reverse a ban. However, with the advent of social media and platforms like OnlyFans, models now have the opportunity to showcase their talents on various social media and fan sites, as well as competing cam chat platforms. This has now opened up a universe of opportunities for users to connect with the models who previously banned them and inquire for clarification.
Contact the model
If you find yourself silenced by the model, don't worry. After six hours, you will automatically be unbanned from the public chat. However, if the model has banned you from accessing her chat room, the only way to get unbanned is to contact her directly. Unfortunately, reaching out to Chaturbate support is unhelpful in this situation as they unlikely will not lift the ban.
Find ways to reach the model
Do you happen to recall the username of the cam model you were chatting with ? If not, fear not, for there are several ways to track her down. One option is to conduct a Google search using her name. Even if you misspell it, Google's algorithm is quite adept at generating a list of possible matches.
However, it's important to note that if you were banned from the cam site, the model may be hidden from your view. In this case, it's best to explore other avenues. For instance, you could check all the social networks she frequents. Check all the popular ones, such as Twitter, Instagram, and TikTok, to see if she has a presence there. You may be able to follow her and send a private message to apologize for any missteps.
Another option is to search for her personal website, where you may find contact details such as an email address or any instant messaging. Additionally, many cam models use fan-based sites like OnlyFans and FanCentro to communicate with their followers. Taking advantage of her premium content by subscribing or sending her a few tokens might help you make a sincere apology.
How to avoid being banned as a user
Guidelines for appropriate behavior
To avoid being banned from Chaturbate, users should follow specific guidelines, such as respecting the models' boundaries, avoiding spamming or harassment, and not requesting illegal or explicit content. Users should also be aware of the platform's policies and ensure they do not engage in any behavior that violates these rules.
The importance of communication
Consent is crucial. Users should always communicate with the models before making any requests or providing tips and should never feel upset if the performer is unwilling to respond favorably to your request. Models have the right to decline any requests that make them uncomfortable or violate their boundaries. Users who respect these boundaries are less likely to be banned.
How to respond to warnings
If a user receives a warning from a model or Chaturbate administrator, they should take it seriously and change their behavior accordingly. Users who refuse to listen to warnings or continue to engage in inappropriate behavior can face more severe consequences, leading to bans and possible account restrictions.
To avoid getting banned by a broadcaster on Chaturbate, it's important to be respectful and courteous towards the models and other users. This means following the site's rules, such as not sharing personal information, not promoting other sites or services, and not engaging in illegal, harmful or unethical activities. It also means treating the models as human beings, not just objects for your pleasure. Remember that they are providing a service and deserve to be compensated for their time and effort.
Bypass the ban by Chaturbate models
If you've been banned from a models chat, circumventing the restrictions is possible with two easy methods.
Log out of your account
To regain access to a model's rooms whom banned you, simply log out of your account. Although your account has been banned, your IP address and unique identifier remain unaffected. Therefore, you are free to enjoy the livestream without any manipulation or interference. Please note that while you will be able to view the live streams, you will not be able to participate in the chat or send messages.
Create a new account
While it may appear to be a simple solution, it is imperative that you comprehend the reason for your ban and refrain from repeating the same negative behavior. It is crucial to acknowledge and learn from your mistakes before considering the creation of a new account. Failure to do so may result in a repeated ban from the same broadcaster. Therefore, it is essential to take the time to reflect on your actions and make necessary changes to avoid future consequences.
To begin using Chaturbate as before the ban, you must create a new account here. This process is quick and easy, and it allows you to access all of the site's features. Simply enter the sign up page and follow the prompts to enter your information. Once you have completed the registration process, you can start exploring the site and interacting with other users, including whom banned you.
Congratulations! You now have all the essential tools to recover your account and avoid future bans. Armed with these keys, you can fully engage in the exciting and captivating features that Chaturbate has to offer. It is imperative to maintain a polite and non-confrontational attitude, while also respecting the boundaries of others and following the law. By doing so, you can guarantee a positive and pleasurable experience on the platform for all. Enjoy !